The sense of joy and wonder in the outcome of a church reordering project is always rewarding. But behind the finished result sits a project that has taken many years and involved a great deal of dedication.
We spoke to members of the Working Group at St Matthias Church in Torquay, and have reflected on their experiences of running a church reordering project and what's involved.
Understanding the time and financial commitments
Church reordering projects take many years to reach completion. What you may find surprising is that much of this time will be spent before any building work starts.
Preparing your Statements of Significance and Needs is perhaps your most important task. They are your opportunity to review what's special about your church building. Every church is different: some are historically important; others are considered works of great artistic endeavour. As well as this, church buildings mean so much to so many within the community. Exploring why people consider them special is a really important process and can be quite a transformational experience for everyone involved. Often, people who don't have an obvious connection to the building or visit it very often can feel very strongly about it. Understanding and appreciating why people hold these values is important to making the changes that are needed in a way that is sensitive and caring. Ultimately, it also helps create more energy, excitement and investment in the scheme. This is a process that does take time, but can be a very powerful and life-giving exercise.
Once you have your Statements of Significance and Needs, you will need to seek consent from your Diocesan Advisory Committee (DAC). Faculty functions using committees, who all communicate with each other, so this decision-making process is lengthy. A final decision from the chancellor can then take many months, or even a year.
Much of this process can feel very theoretical. It can also feel invisible, especially if you are outside the core team.
To overcome this concern, we look to undertake something akin to a feasibility study. We produce a small piece of work that tries to encapsulate the central idea in the simplest way possible. We then have information we can use to engage with the DAC to seek support for the scheme in principle and get additional direction.
Having this in place achieves three things.
It gives an injection of energy into the process of developing the Statements because there is a greater sense of confidence in the outcome. It allows us to get an idea of the likely costs so we can start to understand the level of fundraising that will be needed. It's also a valuable asset when presenting the scheme to the wider church family and key stakeholders to show what you hope to achieve and foster their support.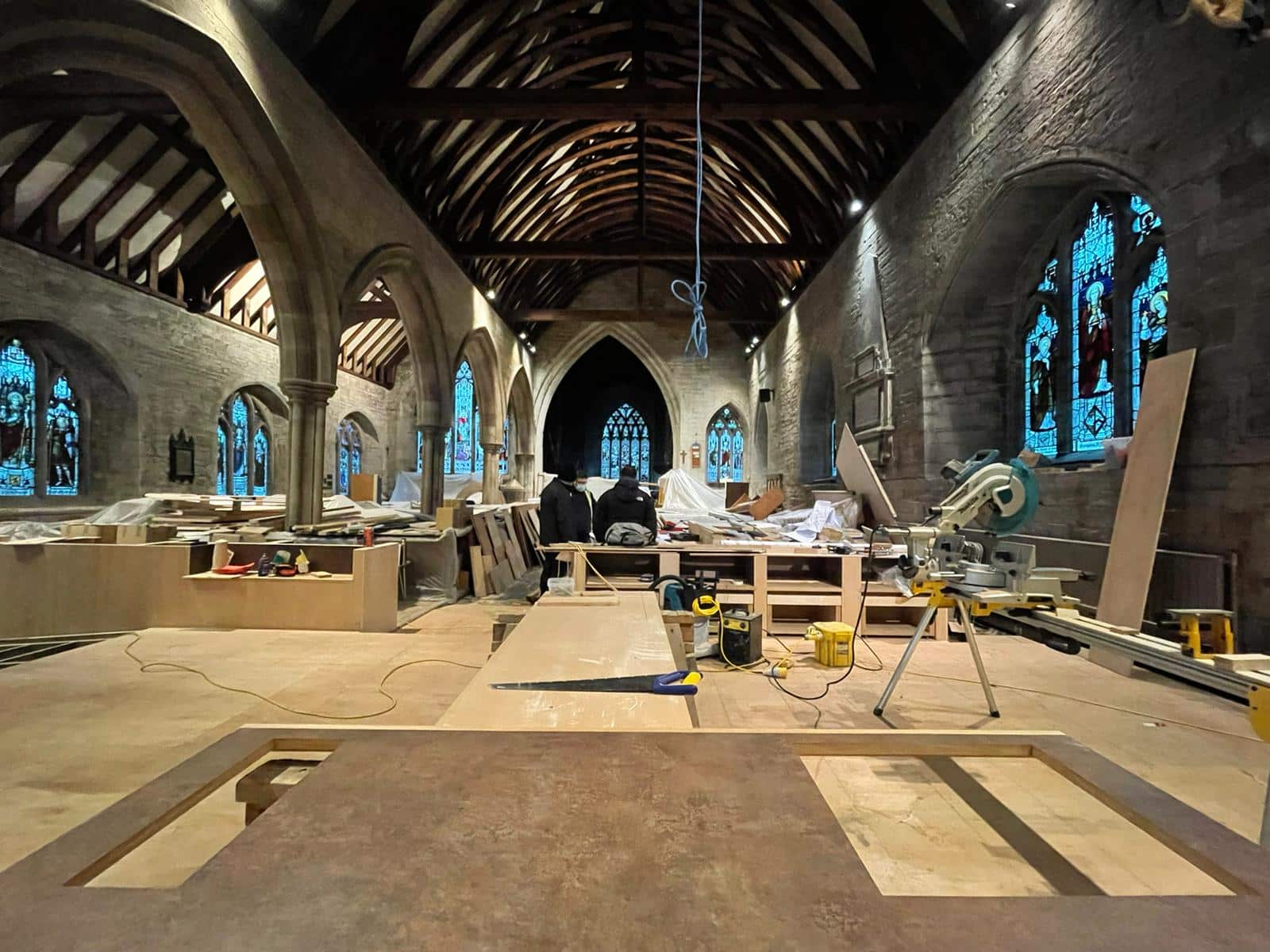 Working with your contractors
Our advice to homeowners working on building projects is always to work with a building contractor rather than a builder. We say the same to the people involved in church reordering projects. There are many reasons for this.
Managing a project of the scale and complexity of a church reordering is a highly skilled job. An experienced building contractor will take on this role – and will have the expertise that's required.
They will also have trusted relationships with tradespeople they have built up over years. It means they have a network of people with the experience that's required they can call on in both planned and unplanned situations.
Like other PCCs we have worked with, St Matthias found that working with local contractors and tradespeople was very beneficial. The people felt a level of pride in their work over and above normal because they were working on a building that was connected with significant events in their lives such as christenings, marriages or funerals.
But perhaps the most important reason is that the contractor shares the financial risk of the project. It also gives you a firm cost, so you don't have the concern of a project's budget spiralling.
Your Quantity Surveyor will work alongside the project team, advising from an early stage what the likely budget will be. This is so helpful when considering the scale of your scheme. They are also fundamental in creating the documents that allow confidence that every part of the project has been priced correctly. On site, they ensure that the correct payments are made to the contractor and the church. When variations are encountered, as they inevitably will be, they help calculate a fair price for both parties involved. Finally, having a specific financial advisor is invaluable to help in accurately reporting to the many people who have invested in the project.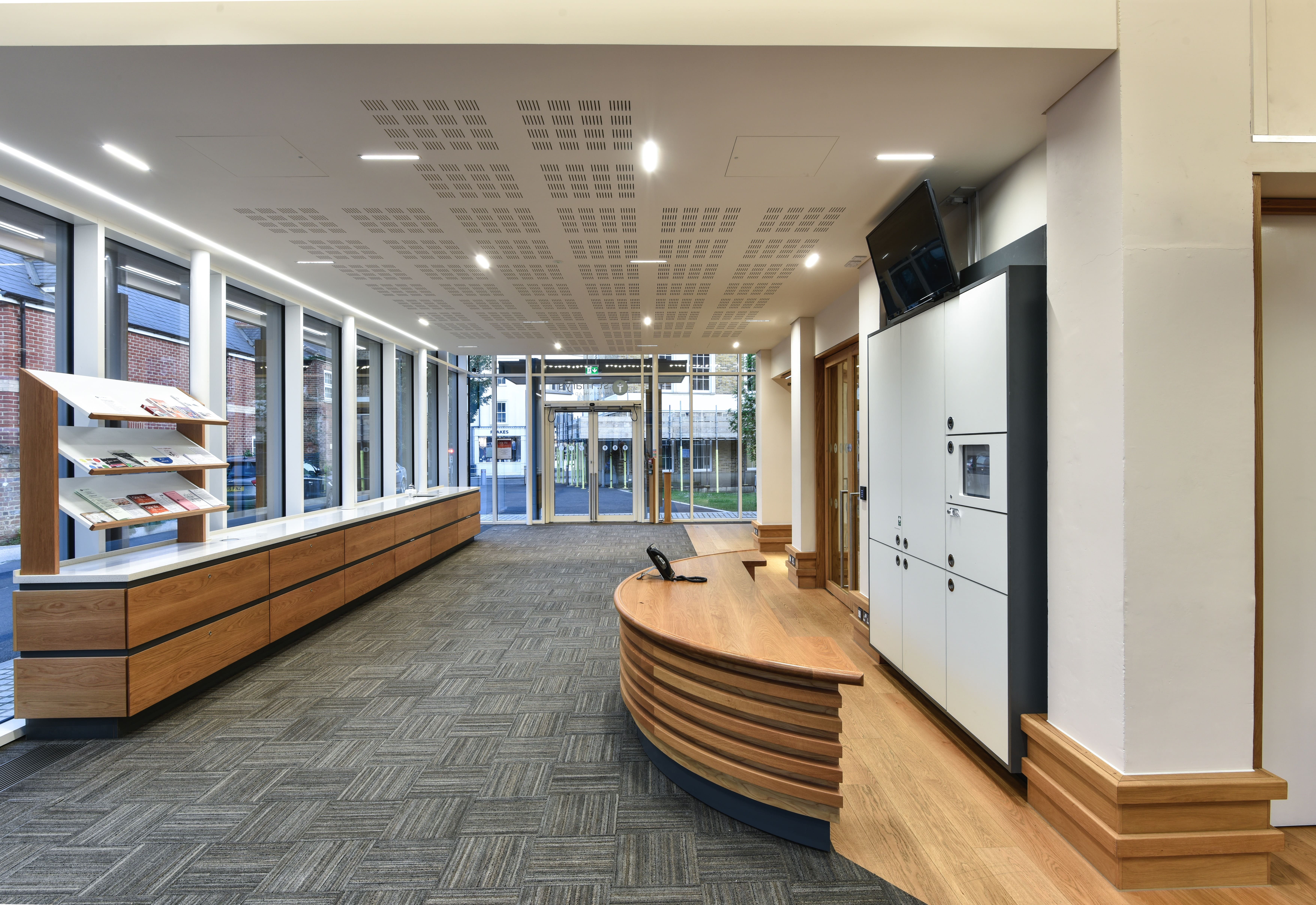 Keeping track of the paperwork
We run all our projects using Basecamp, an online project management tool. All tasks, emails, documents and updates are held in one place, and everyone on the project has access to everything. It is very easy to underestimate the amount of information that flows between architects, contractors and the project team on a contract of this scale. Having a secure place to store all this information is essential. It means you can see everything that's happening, even the parts that you are not directly involved with. You also gain transparency and visible reassurance that progress is being made against an overarching plan.
We also have regular meetings to track progress. There are fortnightly Q&A sessions with contractors and monthly sit-down meetings with the entire project team. Notes from these meetings are written up (and stored on Basecamp) so you have the information you need for your PCC meetings and reports.
The joy of the final result
We truly admire the altruism of the people with the energy and enthusiasm to take on a church reordering project.
We also never tire of seeing the difference in the life of the building once it is complete. It is not unusual to see a ten-fold increase in the number of people using the building on a weekly basis. As a result of the reordering, St Matthias is able to host everything from weekly Mummy and Me groups to one-off events such as a barn dance and a Christmas fair.
John Beckett, Rector of St Matthias reported: "We're finding now that we are using the church building midweek – in fact, it's actually causing almost a problem because so many different groups want to use it."
It isn't just the immediate change either. You will notice changes the reordering has allowed day to day, week to week and year to year. Take time to celebrate these shifts and be proud of the calling that drew you to dedicate part of your life to the project that brought them about.
Paul Stannard, Churchwarden at St Matthias, recalled the first time his grown-up son saw the reordered building: "He just said: it looks alive. When I came as a child it looked dead. Now it looks alive."