There are few things that have a more powerful effect on us than re-thinking the spaces where we spend the majority of our time. When a home is re-imagined to reflect the way we live and the unique requirements we have, the experience is pure delight, day in, day out. Our clients live in Herefordshire, Worcestershire and Gloucestershire. We work closely with them to develop home extensions built around their needs and dreams.
Contact Us. Find out how we can help you with your project
How We Helped Sophie and Chris
Sophie, Chris and their young family relocated to Herefordshire for family and job reasons.
They found a house in a village location with shops, a pub and a good school. It was an elegant twentieth-century house on a plot that had beautiful views of the nearby Malvern Hills. However, the decoration was very dark and the plot was very overgrown, adding to the feeling of darkness. It also only had a small kitchen, which Sophie and Chris knew wouldn't work for them. But Sophie says: "We could see the potential – it just needed lightening up a bit. Plus this was our forever home and we were prepared to do work on this one."
Sophie and Chris wanted their kitchen extension to feature a lot of glass so it was light-filled and airy. We proposed a timber, metal and glass extension that wrapped around the corner of the house and incorporated the kitchen and the big table Sophie and Chris wanted, as well as a seating area where they could relax as a family.
We proposed sliding doors for the glazed elements. They allow for larger glazed panels than bi-folding doors so there would be fewer bars to block the view when they were closed. They also meant we were able to use oak pillars, which wouldn't have been possible with bi-folding doors.
The extension incorporates large soffits that house the lighting for the room. It was important for Sophie and Chris to have a television in the room but the obvious place for it would block the view. We designed a bespoke TV and audio unit that raises and lowers at the touch of a button.
Sophie and Chris are delighted with the results. It's given them the welcoming, multi-functional space they wanted, where the entire family can spend time together and where they can also socialise with friends.
Read the full story of Sophie and Chris's project
We all spend time in the one room. We can see the garden. We can see the view. We love it.
How We Helped Steve and Liz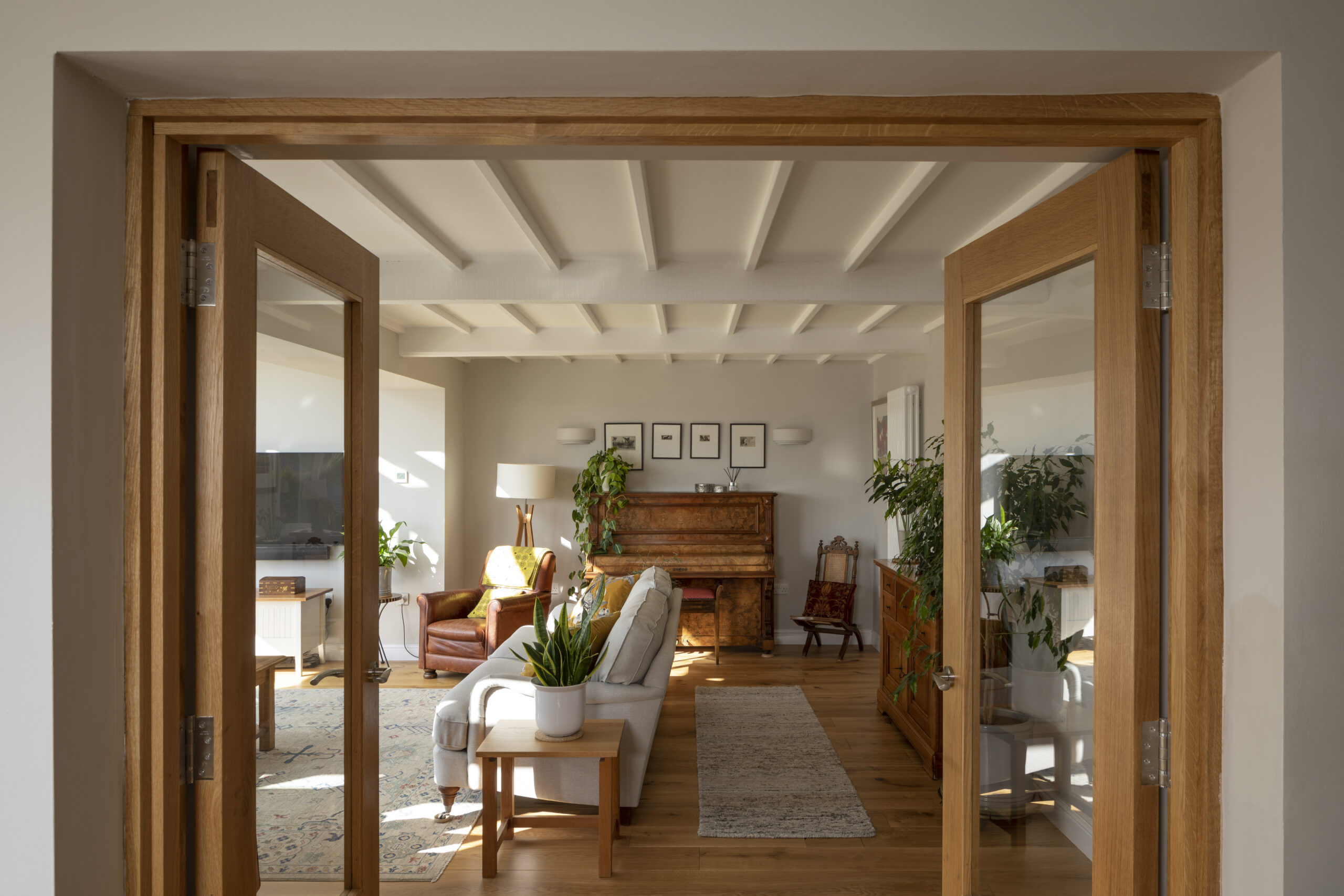 Orangery Cottage extension in Worcestershire is a refurbishment of a family home with a new garden room, terrace and master bedroom suite.
Steve and Liz's home of many years was a charming nineteenth century cottage set in the beautiful Worcestershire countryside. Their children had grown up and left home and were now bringing a new generation with them when they visited. While Steve and Liz loved their cottage, they felt there was not a large family space where they could welcome everyone at once.
They knew that they loved their home very much. However, it lacked a large family space where they could welcome children and grandchildren all at once.
To create this space, we drew up plans for a single storey orangery extension with a lantern roof that would give the couple what they needed to spend many more happy years in the cottage.
The couple are delighted with the results. They have the family space they always wanted, and it connects beautifully with the garden which is so important for their day-to-day lives. Crucially, it is also a space that works when it is just the two of them.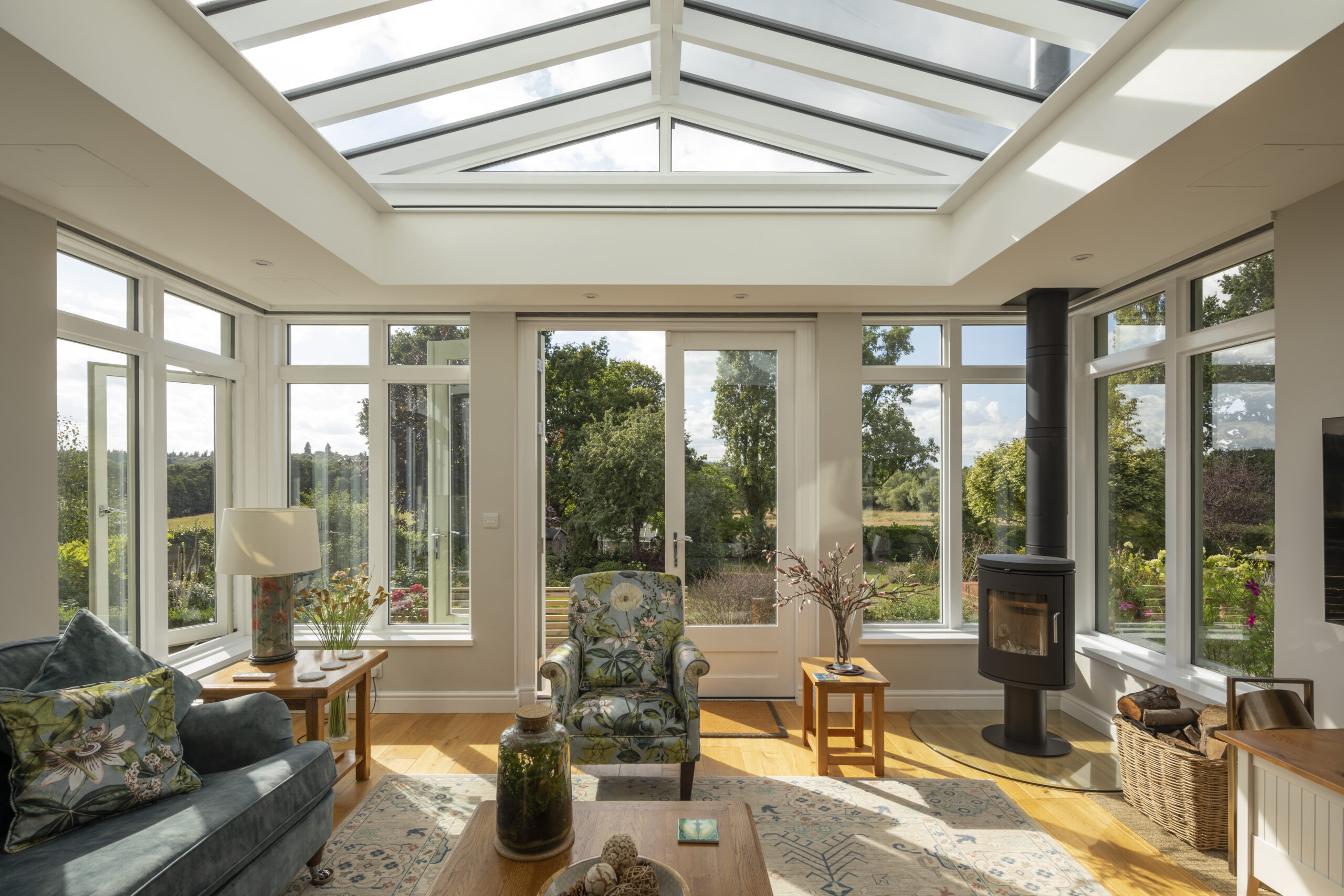 "We're very comfortable in there, just the two of us. We go to sit in there every night and we almost feel our bodies relax when we go in. But at the same time we can get 10 people in if we want and we can have little kids running around. It's a clever mix."
Steve
Managing Costs, Ensuring Quality
Our Three Stage process covers creating a design centred around your needs and dreams. It also includes all the practicalities: steering the project through the planning process, budgeting the work, sourcing contractors, managing the build phase, ensuring all regulations are met and undertaking snagging at the end of the process.
Our role means you create value that can be realised at sale, keep control of your budget and attain the high quality finish you expect from an architect-designed project.
Resources for a successful build
Download our quick start pack to help you work with an architect and design, plan and manage a successful build
Enquire about working with us
Let us know a few details and we will be in touch as soon as we can with how we can help you with your project